Gallery
GCA GALLERY
info@gcagallery.fr
www.gcagallery.fr
GCA Gallery PARIS – 2 place Farhat Hached – 75013 – Paris
Tuesdays 12:00pm – 5:00 pm; Wednesdays to Saturdays 11:30am – 6:30 pm
Phone : +33 6 09 07 75 99
GCA Gallery NICE – 16bis rue Catherine Ségurane – 06300 – Nice
Tuesdays to Fridays 2:30 – 6:30 pm
Phone : +33 6 09 07 75 99
Founded in 2014, GCA GALLERIES are spaces dedicated to contemporary urban art, located in both Paris and Nice. These galleries represent a true artistic melting pot where graffiti, street art, and urban art in the broadest sense converge. They provide a unique platform to showcase urban artists, both French and international, who stand out due to their activity and recognition within the current artistic landscape.
Among the shining names within these galleries, we can mention artists such as C215, DOTMASTERS, DZIA, ETNIK, FIKOS, FLOG, FODE, Jordan HARANG (alias RUSS), KURAR, MACS, MALAKKAI, Matthias MROSS, Maxime SIAU, MOMIES, Mr JUNE, NEBAY, NEVERCREW, ORTICANOODLES, Otto SCHADE, PURE EVIL, RATUR, SCKARO, and SLIM SAFONT. These diverse talents bring captivating artistic diversity, making these galleries essential destinations for urban art enthusiasts.
In April 2017, an exciting chapter in the history of GCA GALLERIES began with the inauguration of a new space in Paris, covering an area of over 100 square meters. Located in the François Mitterrand Library district in the 13th arrondissement, this Parisian gallery seamlessly integrates into a culturally vibrant environment. Nearby, you can find innovative projects such as the open-air Street Art Museum "Street Art 13," Station F, and other artistic galleries. This strategic location provides the gallery with a dynamic context conducive to the flourishing of contemporary urban art.
GCA GALLERIES continue to play a major role in promoting and celebrating contemporary urban art, offering artists a space for expression and art enthusiasts a unique opportunity to discover and appreciate the many facets of this ever-evolving art form. This Parisian gallery is firmly rooted in a culturally bustling environment, with projects like the open-air Street Art Museum "Street Art 13," Station F, and the presence of other galleries.
ABOUT GEOFFROY JOSSAUME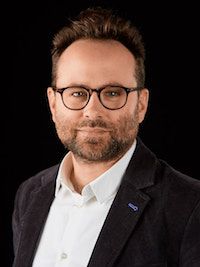 Geoffroy Jossaume, the director of the gallery, was born in 1978 in Nice. He currently lives and works between Nice and Paris, two iconic cities in the world of art in France. His professional journey is as fascinating as it is diverse. It began with his studies in Art History at the prestigious Sotheby's Institute in London. In 2000, he made the decision to establish himself in Paris, where he embarked on a career in contemporary art galleries and auction houses.
For nearly ten years, Geoffroy led the department of contemporary art and urban art at PIASA, a renowned auction house. It was during this period that he organized several specialized auctions dedicated to urban art and graffiti. This experience allowed him to develop a deep expertise in this specific market and refine his sensitivity to this artistic movement.
In 2014, Geoffroy took a bold step by opening his first gallery in the artistic hub of Nice, marking the beginning of his journey as a gallery owner. Three years later, in 2017, he expanded his artistic presence by inaugurating a second gallery, strategically located in the heart of Paris' most significant district dedicated to urban art. These galleries are not just physical spaces; they also embody Geoffroy's passion and commitment to promoting urban art and its artists. His vision has forged a connection between two dynamic cities, fostering a meaningful dialogue between the French urban art scene and the global artistic community.
For more information contact GCA GALLERY on
geoffroy@gcagallery.fr or on +33 6 09 07 75 99
www.gcagallery.fr
Instagram : @gcagallery_official
Facebook / twitter: @gcagallery
GCA Gallery PARIS – 2 place Farhat Hached – 75013 – Paris
Tuesdays 12:00 pm – 5 pm; Wednesdays to Saturdays 11:30 am – 6:30 pm
GCA Gallery NICE – 16bis rue Catherine Ségurane – 06300 – Nice
Tuesday to Friday 2:30 – 6:30 pm